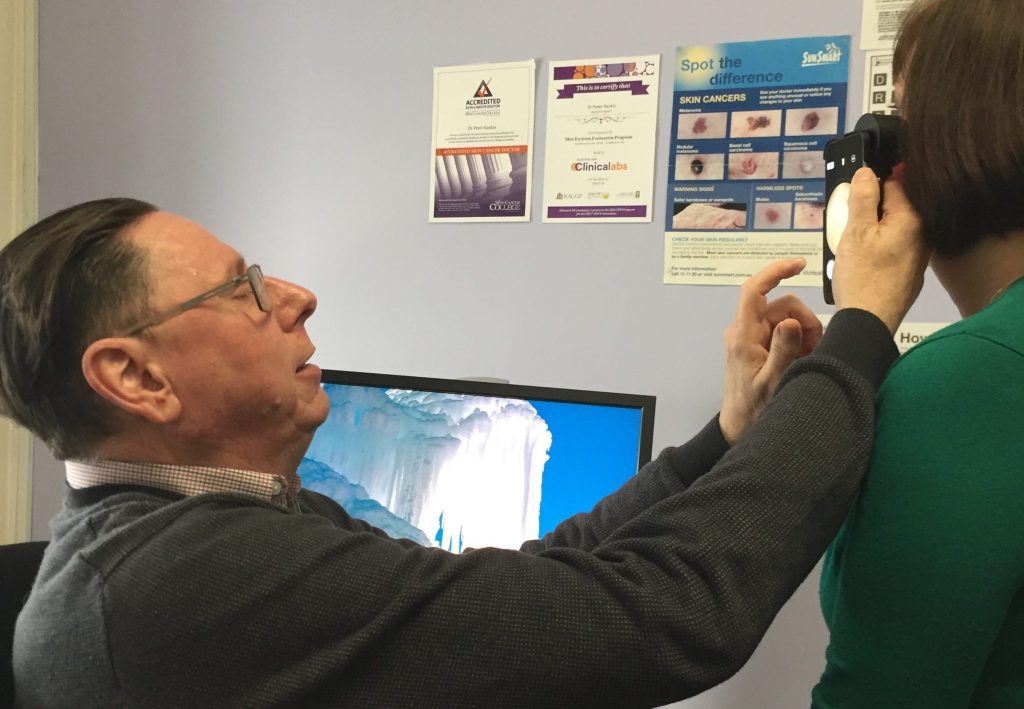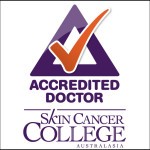 DR PETER RANKIN
Dr Pete has proven skills and knowledge in the diagnosis and management of skin cancer.  He completed the Masters in Medicine (Skin Cancer) at University of Queensland in 2013.  Australian has the highest rate of skin cancer in the world and Melanoma is the fourth most common cancer of all.  In 2018 Dr Pete cut out seventeen Melanomas.  Much more common are the less serious skin cancers such as Basal Cell Carcinoma (BCC) and Squamous Cell Carcinoma (SCC).
What is Dermoscopy?
Dermoscopy is a technique for examining under the top layer of skin using high powered light magnification in order to see the pigmented layer of skin where the moles and melanomas form.  It is safe for pregnant & breast feeding women and children.
The most up to date dermoscopy system is used to 'body map' your lesions called a HEINE Cube dermatoscope.  This permits Dr Pete to detect the earliest changes in your skin, determine what the lesion is and whether it needs to be removed, treated by some other means or just observed.  At future visits, comparing stored images with an existing lesions permits early detection of changes before they are visible to the naked eye.
A new full body map may take up to an hour depending on the number of moles on your body.  You will be asked to remove your outer layers of clothing behind a screen and you will be provided with a disposable gown to wear.  Please remove all watches and Fitbits and large jewellery.  You will then need to sit on a stool so that parts of your body which have moles on them can be photographed.  The lesions that are being monitored will be wiped with sterile water wipes and the videodermoscope will be placed over them and a click will be heard.  You will then be able to see high resolution close ups of your lesions.
Most Melanomas are found by self examinations
Everybody in Australia needs to check their own skin regularly.  To assist this, if you wish, a copy of todays examination can be sent to you.  All of us have some moles, freckles and other growths on the skin.  The majority will be harmless, what we call benign.
Any rapid change in a freckle or mole or a new lesion is a warning sign for Melanoma or other skin cancers and you should see Dr Pete to check it out.  He is particularly interested in spots which look different from your other ones.  These are called stand out lesions or 'ugly ducklings' after the fairy tale.
Risk factors are previous skin cancer in you or your family, fair skin (Type I or II), working outdoors or outdoor hobbies such as gardening, the use of solariums or a history of being sunburnt.  
Sunspots or Senile Warts
A lot of my patients hate their "senile warts" (Seborrheic Keratoses) because they grow to a very large size and can become very dark.However, they are harmless and never turn into cancer. The only reason to remove them is because of their appearance. Unfortunately they are often difficult to remove easily and can grow back even if completely removed.
On the other hand "sunspots" (Solar Keratoses) which seem relatively innocuous can turn into a form of skin cancer (SCC) which is deadly. Any sunspot which changes should be assessed and treated.
We have a variety of different treatments for sunspots which are usually effective. The gold standard is cryotherapy or freezing. This is a routine part of every skin check where sunspots are present particularly in the head and neck region.
When you have a large amounts of sunspots, cryotherapy alone is not practical and a variety of additional "field treatments" are offered. The most popular is Efudix cream which is applied daily for four weeks. Other similar creams are Aldara, Picato and Solaraze.
For even larger areas we can organise PDT or even laser therapy but these are much more expensive.
Sunscreen for sensitive skin
The best protection from the sun is shade followed closely by appropriate clothing. Sunscreens are still necessary to protect those areas which can not be covered up. Sunscreens act as filters using safe ingredients like zinc oxide and titanium oxide to create a reflective barrier.
The most important features of a good sunscreen are being broad spectrum – UVA and UVB – particularly as UVB is the main cause of sunburn and melanoma. They should have a SPF rating of at least 30+.
Most dermatologists recommend creams and lotions as they are generally applied better than sprays. If you wish to use a sunscreen spray, remember to use it like a paint can and apply it in a crisscross fashion and avoid inhaling.
Many people choose to use natural sunscreens for a variety of reasons but they are not superior to regular sunscreens.
· Eco Baby SPF 30 + Natural Sunscreen
· Little Urchin Natural Sunscreen SPF 30 (3 hours water resistance)
· California Baby Broad Spectrum SPF 30+
· Burt's Bees Baby Sunscreen SPF 30
· MINERAL Light Hydrating Sunscreen Lotion SPF 50+ (ultra–light mineral sunscreen)
· Wotnot Sunscreen SPF 30
· Invisible Zinc Face + Body Sunscreen SPF 30+ UVA-UVB (moisturiser)
· MooGoo Natural Sunscreen SPF 40 (moisturiser)
· Aesop Protective Body Lotion SPF 50
· Little Innoscents Natural Sunscreen SPF 30+ (4 hours water resistance)
Go Back